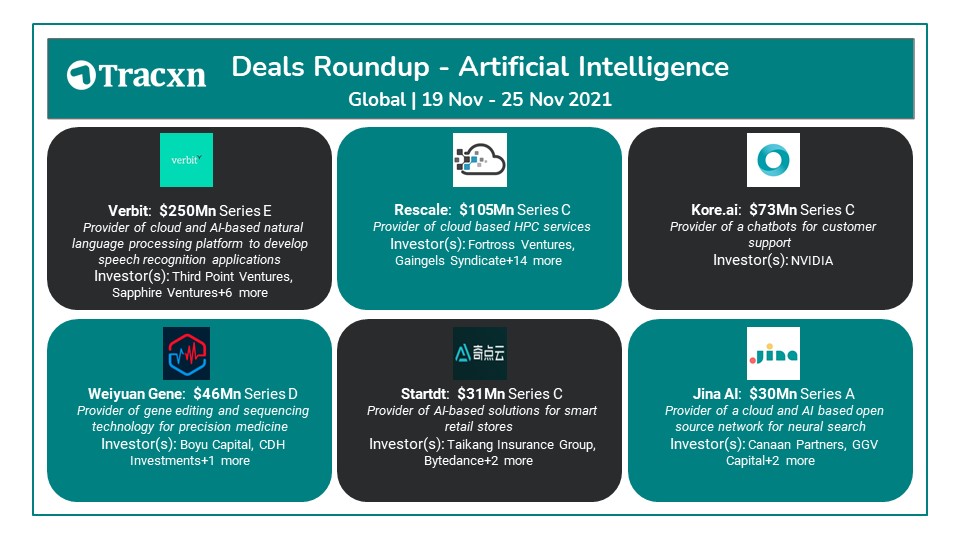 Tracxn Deals of the Week: AI, RPA, Cybersecurity, and Big Data (November 19-25)
According to Tracxn, these are the notable deals in the past week for the Artificial Intelligence, Data Analytics and Cybersecurity Sectors.
Cybersecurity

Hummingbird,  Platform for managing anti-money laundering and counter terrorist financing operations, raised a Series B – $26.9M round.
Scope Security, Cloud and AI-based cyber threat identification software for medical organizations,  raised a Series B – $18.8M round.
Beijing Huayunan Information Technology, AI based vulnerability intelligence and management platform, raised a Series A – $15.7M round from, Cowin Capital.
ShieldIoT, Provider of AI based device security solutions for IoT applications, raised a Series A – $7.4M round from,  Bloc Ventures, NextLeap Ventures, Atlas Venture, Janvest Capital Partners and others.
SaaS Alerts, Cloud application security solutions provider, raised a  Series A – $3.15M round.
Data Analytics

Conduktor,Cloud based stream data computing solutions provider, raised a Series A – $22M round from, Accel, Canvas Ventures, Aglae Ventures, Frontline Ventures.
Kido Dynamics, Provider of an AI based data platform for smart cities, raised a Seed – $2.14M round from, Spicehaus Partners, B4Motion, Boundary Holding.
Tracxn tracks Innovative companies across over 300 technology sectors and more than 1,000 emerging themes worldwide, plus dedicated geographic coverage on over 30 countries.
Tracxn is an ideal solution that combines human researchers with artificial intelligence, and is an ideal solution for
Investors – VC, PE, IB, Incubators, Angel Networks, Family Offices
In-house researchers & analysts – M&A, Innovation and Digital Transformation Teams
Government Agencies, Industry Bodies, Universities
Marketing & Sales teams prospecting or researching competition